Team Mako
Leisure Exercise and Activity Platform (LEAP) Shark is an innovative and interactive gym management system, which includes membership registration, class scheduling and other features. In addition, LEAP Shark provides gym owners with an admin portal to set up plans and classes, manage instructors, and generate reports. This project will allow users like gym trainees to sign up for their accounts, view and register for plans and classes, and pay for them online.
LEAP Shark is a continuation project started by the client. The team will further develop the system by implementing essential features and fixing existing bugs. Moreover, the project focuses on building an administration system to be used by gym owners in managing their gym businesses. Furthermore, this project will allow the customer to see all available class schedules and be able to register in their desired classes.
In Team Mako, all members work together harmoniously and make project decisions effectively by communicating properly and listening carefully to each other. In addition, the team shows their support to each other by helping everyone in the team to debug, solve and review their development tasks. Here are the members of the development team:
Connor Gray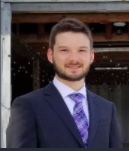 Connor enjoys learning about the latest tech, playing video games, and being active outdoors. He is detail-oriented and wants to start his career in a full- stack development position. Through his past employment and schooling, he has learned how to work well in a team, be a leader, and effectively communicate. Recently he has earned a certificate from Google Digital Garage in The Fundamentals of Digital Marketing. Connor is looking forward to the new opportunities he will have after graduation this summer.
CJ Bravo

CJ has a can-do attitude, works effectively with teams and loves to keep learning new things, especially if it involves technology and games. Outside school, CJ has been working as an application front-end developer at Maximus and doing online courses to enhance his technical skills. CJ has a passion for programming and project management and plans to start his own gaming company someday.


Rolando Pacho

Rolando has always been interested in video games since he was a kid. He took the ICS program to improve his programming skills so that he can find a job related to video games. He is a problem solver, good at back-end development, and always has a positive attitude. His plan for his career is to own a business related to video gaming.

Team Mako would like to thank its sponsor, Brandon Ellis, for this wonderful opportunity to work on this project. We would also extend our gratitude to our instructors at Camosun College and to our department chair Saryta Schaerer for their continuous support and words of wisdom in making this project successful. The team is very grateful for the opportunity to work with each other. Throughout the project, the team was able to learn the strengths and weaknesses of each other and utilize them into their advantage to complete the deliverables for the project.